Risk 2 Solution has been named on the 2021 AFR BOSS Most Innovative Companies List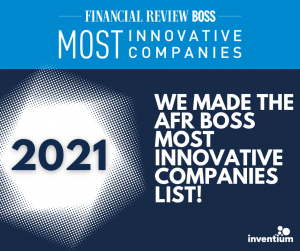 Risk 2 Solution was honoured to be recognised as one of Australia and New Zealand's Most Innovative Companies. The prestigious annual list, published by The Australian Financial Review and Boss Magazine, is based on a rigorous assessment process managed by Australia's leading innovation consultancy, Inventium, in conjunction with a panel of industry expert judges.
We were honoured to rank #10 on the Professional Services list, from over 700 nominated organisations across Australia and New Zealand. The assessment measures a top innovation implemented in the past two years. Specifically, the judges look at how valuable the problem is that the innovation is solving, the quality and uniqueness of the solution, and the level of impact that the innovation has had. Inventium also assesses internal elements such as innovation culture, strategy, resources and process, which demonstrate a sustainable and repeatable approach to innovation. The full list can be viewed here.
Risk 2 Solution was thrilled to be recognised for Presilience®.
There is no doubt that the world we live in is VUCA (volatile, uncertain, complex and ambiguous). We need a new approach to business strategy and risk management that creates a default setting enabling staff and leaders to thrive in new normal conditions. This approach is called Presilience®.
The new Presilience® approach shifts focus away from an emphasis on planning, procedures, systems and recovery, which are essentially established to avoid the mistakes of the past.
"Inventium is proud to announce the 2021 Most Innovative Companies list in conjunction with AFR. After the enormous impact 18 months (and counting) of a global pandemic has had on the way we live, it's so inspiring to see all the amazing innovations our winners have created to help make our lives better." – Dr Amantha Imber, Founder, Inventium
ABOUT THE AFR BOSS MOST INNOVATIVE COMPANIES LIST
The AFR BOSS Most Innovative Companies list (previously the BRW Most Innovative Companies list) is now in its ninth year. The list ranks the most innovative organisations in Australia and New Zealand, by industry, and is the only national list of its kind. The list is judged and compiled by Inventium – Australia's leading innovation consultancy.
Inventium uses a unique, scientifically proven approach to help organisations grow through innovation. In 2021, the list comprised of ten industry lists, compiled from over 700 nominations.
www.mostinnovative.com.au
ABOUT INVENTIUM
Inventium is Australia's leading behavioural science and innovation consultancy. Since 2007, Inventium has helped over 400,000 people become more innovative and more productive at work. Inventium applies the latest findings from science (psychology and neuroscience) to help organisations unlock growth through innovation. Inventium is the official methodology partners of the AFR Most Innovative Companies list and the AFR Best Places to Work List.
Inventium is also a proud BCorporation.
www.inventium.com.au
ABOUT THE AUSTRALIAN FINANCIAL REVIEW
For more than 50 years The Australian Financial Review has been the authority on business, finance and investment news in Australia. It has a reputation for independent, award-winning journalism and is essential read-ing for Australia's business and investor community.
The Australian Financial Review is owned by Fairfax Media Limited [ASX:FXJ], a leading multi-platform media company in Australasia.
www.afr.com